Pharmacy outreach improves community naloxone access
Outreach to pharmacists is like academic detailing which is a type of face-to-face educational outreach to health care professionals such as prescribers and pharmacists. Academic detailing is different than pharmaceutical sales and education because it is non-commercial and there is no explicit promotion of any product. Successful outreach/academic detailing involves:
Interactive peer-to-peer dialogue
Possess clear objectives
Establish and maintain credibility
Use concise, engaging materials
Repetition, repetition, repetition
The goal is to support pharmacists in providing timely, accurate, unbiased support to get naloxone into the right hands at the right time. These are some resources to help do this.
Help a local pharmacy establish a naloxone standing order for community members
Some communities have programs that distribute naloxone for free to people who use drugs. However, these organizations cannot reach all the people who want naloxone. A community pharmacy with a standing order, prescriptive authority, or collaborative practice agreement to provide naloxone to people is another way to ensure that people have naloxone. Each of these legal mechanisms accomplishes the same thing: access to naloxone through the pharmacy without having to see a prescriber first.
A pharmacy will need:
To understand the local laws and regulations regarding naloxone access- check out PDAPS
A prescriber of record to issue the standing order, prescriptive authority, or collaborative practice agreement
The standing order/ prescriptive authority/collaborative practice agreement- example of acceptable language
Health Departments can facilitate this process by providing interested pharmacies with the appropriate contact at the health department.
This short video explores one pharmacist's commitment to community health and naloxone access.

Collaborations and organizing
A great tool for community coalitions to engage people is a naloxone secret shopper initiative. People can send experiences to @GETNLX.
Download the two-sided 2×3.5″ business card size instructions and start secret shopping in your community!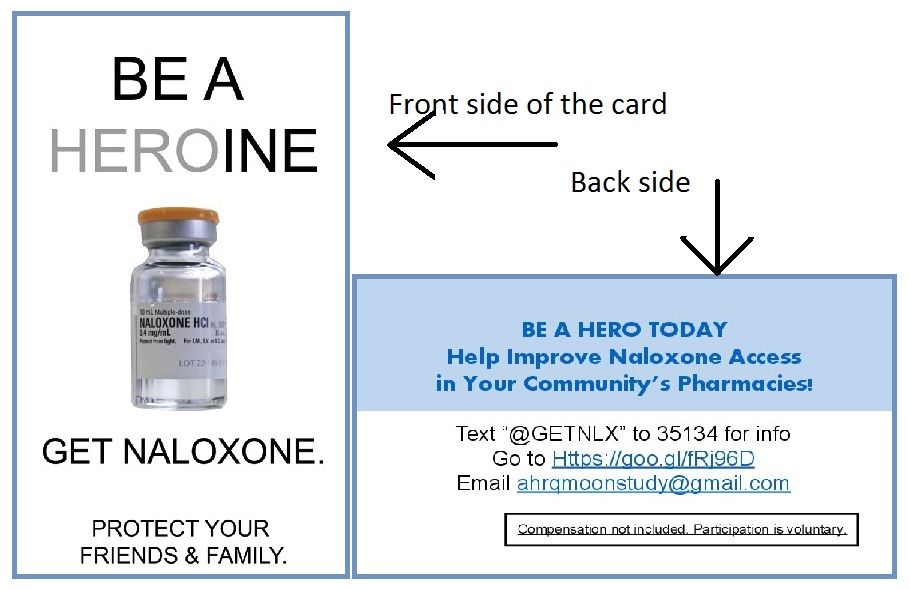 Download file for professional printing
Download file to do-it-yourself using a business card template in your home or office printer
Help a local clinic, SUD treatment program, shelter establish a standing order with a pharmacy
Some agencies and pharmacies find it best to partner to provide naloxone to individuals they both serve: their patients, residents, or participants. Where applicable, pharmacies can bill the individual's insurance. These partnerships are mutually beneficial. The pharmacies establish routine and consistent naloxone dispensing which improve patient and community safety. Clinics, programs, and shelters are able to get naloxone to their patients in an efficient and sustainable fashion. The result is high-volume, consistent naloxone distribution. One example of this approach is how White Cross Pharmacy partners with CODAC, Inc., an Opioid Treatment Program and Phoenix House of New England, Rhode Island.

Agency outreach may be used to introduce the idea of establishing an innovative partnership to Pharmacies, Clinics, Programs, and Shelters. State health or behavioral health departments may also motivate these types of partnerships by establishing policies or regulations that strongly encourage or compel naloxone distribution to patients at risk of overdose, e.g. patients enrolled in a state regulated Drug Treatment Program.

Here are some ways we've noticed these partnerships get established:
Pharmacy Initiated: The pharmacy reaches out to nearby clinics, drug treatment programs, or shelters and discusses how the pharmacy can provide naloxone to patients. Naloxone may be provided under prescription, general (state) standing order/collaborative practice agreement/prescriptive authority, or site-specific standing order.
Clinic, Substance Use Disorder Program, or Shelter Initiated: The clinic, program, or shelter contact nearby pharmacies and explore means to connect their participants to naloxone through the pharmacy.

There are many ways to do this and below we outline some basic models. The best model is the one that works for the Pharmacy, the Clinic, Program, or Shelter, and for patients!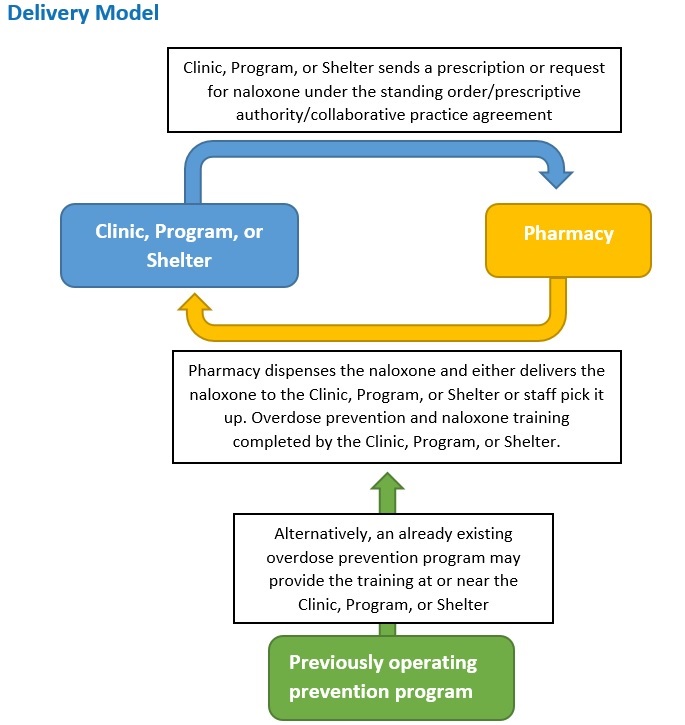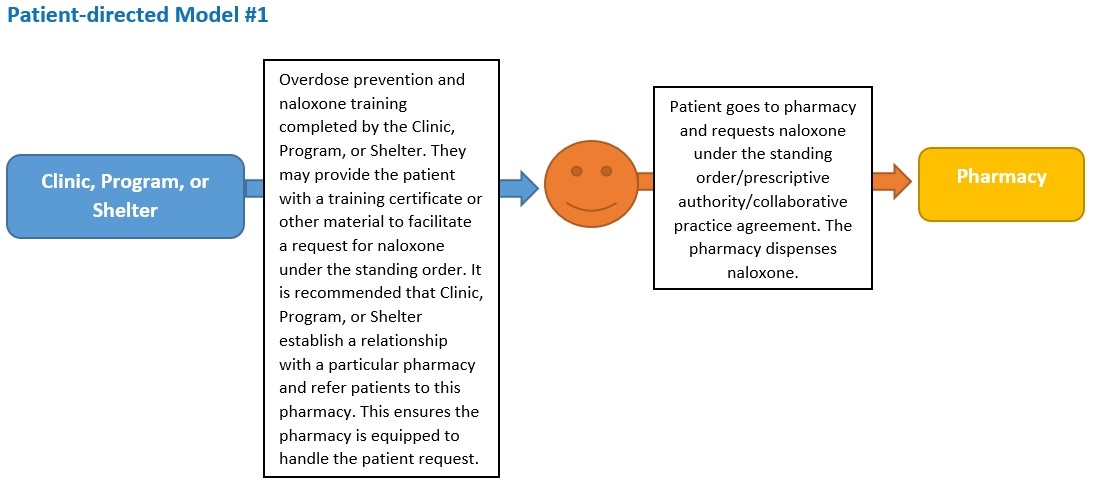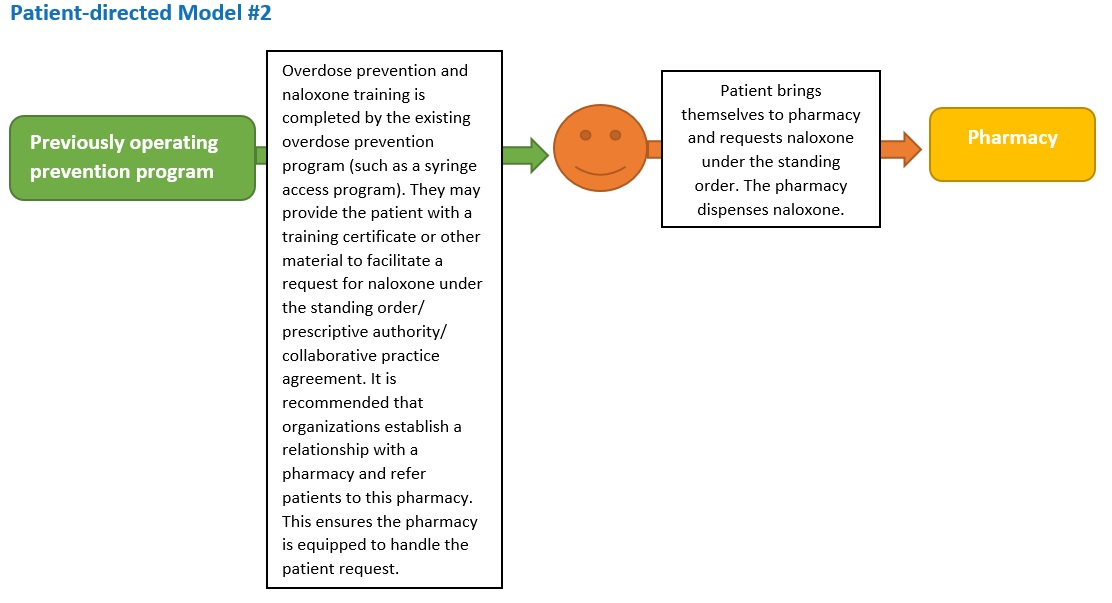 For these types of partnerships, agencies and pharmacies may need:
To understand the local laws and regulations regarding naloxone access- check out PDAPS
A pharmacist with prescriptive authority (if this is your state's model of pharmacy naloxone access) or a prescriber to issue the standing order or collaborative practice agreement. This prescriber- can be the person who provides medical oversight to the agency that collaborates with the pharmacy, or could be the state health department prescriber associated with the naloxone standing order/ collaborative practice agreement. Check with your state health department to learn more.
The standing order/prescriptive authority/collaborative practice agreement – example of acceptable language between a pharmacy and an agency